Step One: Campus Tour
St. James Catholic School offers Tours on Tuesdays between 10 AM - 2 PM.  Sign up here or contact the Admissions Office to schedule a campus tour:  Megan O'Neil, Director of Admissions & Communications, 912-355-3132 or MeganON@sjcs-savannahga.org. 
Step Two: Submit the Application
Applications will be available online beginning Monday, October 2, 2023.  To begin the application process, the following documents must be submitted for each applicant:
Copy of Birth Certificate
Copy of Immunization Record - Religious Exemptions are not accepted
Copy of Report Cards - 2 years (Applicants Grades 1-8)
State Testing Results - 2 Consecutive Testing Periods (GMAS, iReady, MAP)
Submit the online application with the $50 non-refundable application fee. 
Step Three: Review Process
Once the application has been submitted, the Admissions Team will review the application based on admissions criteria, specifically seeking students who are successful in their current academic environments, who conduct themselves in a manner that fits with the St. James Catholic School behavioral standards, and whose parents/guardians are invested in the education process.  If the Admissions Team deems that the applicant meets the criteria, the application will be contacted to interview with a member from the Admissions Team. 
Step Four: Additional Testing Requirements
Complete any additional testing as required by the Admissions Team. 
Pre-K applicants will be invited to a Pre-K Preview Day on Wednesday, January 17, 2024.
All Kindergarten applicants are required to complete the DIAL Assessment scheduled for Tuesday, February 6, 2024. 
Step Five: Decision Day
After the student has completed the previous steps, the application will be evaluated and an enrollment decision will be made; it is possible that a student may be put on a waitlist for the classes that are at or near capacity, as Parish families have first priority in cases where class space is limited.  All families are notified of admission decisions via email or phone call.  
Decision Day is Friday, February 16, 2024.
Step Six: Complete Enrollment Contract
Once a student is accepted, the following items are required for enrollment: 
Completed Tuition Contract
Release of records (Grades 1-8)
GA EED Certificate #3300
Baptismal Certificate, if Catholic
Parish Participation Card, if Catholic
The completed packet is due within two weeks of the offer, by Friday, March 1, 2024, along with the non-refundable $250 enrollment fee.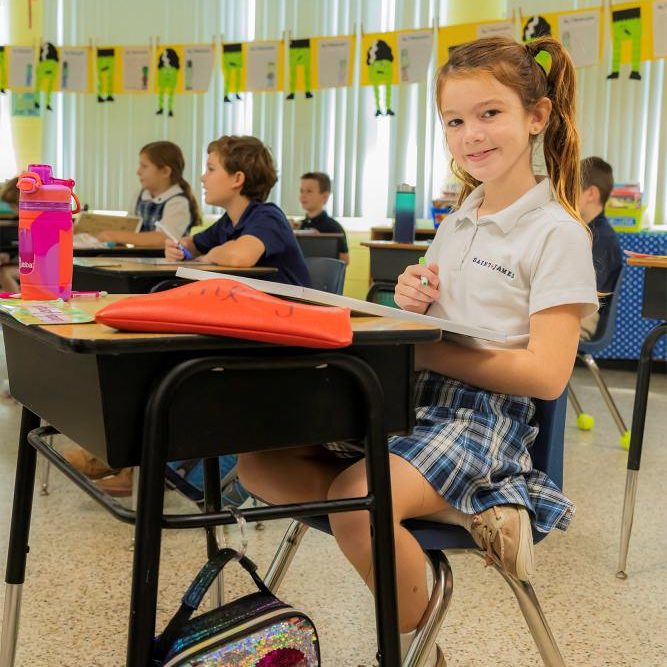 Questions or Feedback?
St. James Catholic School welcomes questions and feedback from applicant families at any time during the application process. Please contact the School Office at 912-355-3132 or email Megan O'Neil, Director of Admissions & Communications at MeganON@sjcs-savannahga.org.