History
Due to post-war growth in the late 1940's in the city of Savannah, Father Terrence Kieran, OSB, recognized a need for a church closer to the newly developing suburb communities. Thus, in 1949 the Diocese of Savannah-Atlanta purchased the current land with a legacy left by Father Louis Rice of Philadelphia. Father Terrence blessed the land on July 25, 1949 and the St. James Catholic Church we know today was started.
A surplus Air Force Chapel was moved to the site and the first Mass at the Mission Chapel of St. James the Less was on Christmas Day in 1949. In 1989, the chapel was razed, and the construction of the present-day church began. St. James was established officially as a parish on August 15, 1956 and Father John Toomey became the first pastor. In the same month, St. James Catholic School had opened its doors to the community under the guidance and leadership of the Sisters, Servants of the Immaculate Heart of Mary under Mother Marie Antoinette.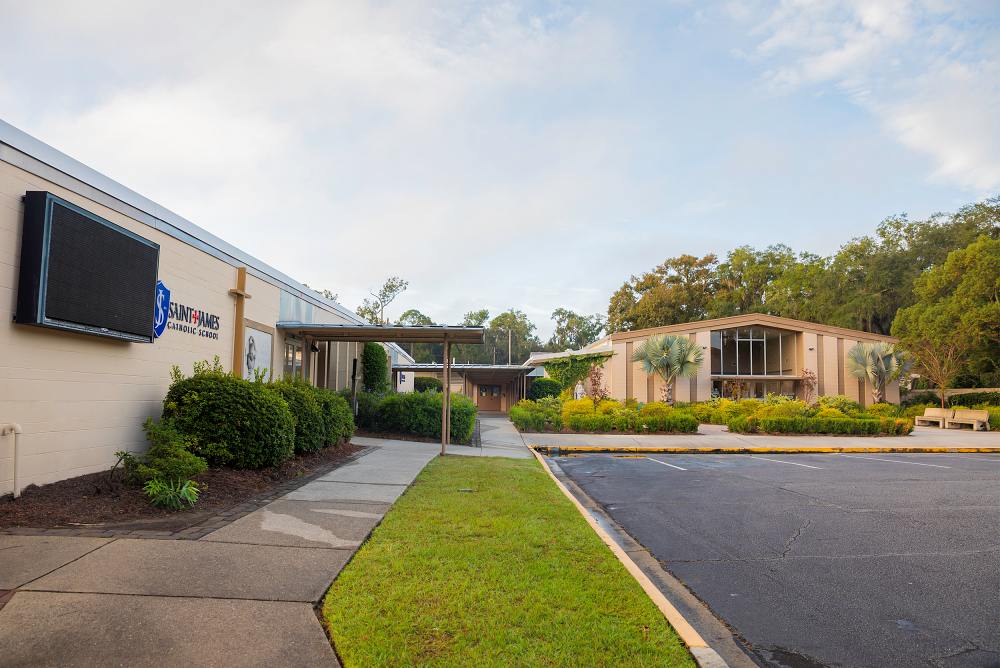 Cooperation of Church and School
Today, the church and school continue to work in harmony together. Each establishment supports the other and provides a sense of kinship, peace, and unity to the parishioners and school community. St. James Catholic School aims to cooperate with the church to better guide, instruct, and mold each child into a child of God with the leadership of the parish pastor, Father Daniel Firmin. Fr. Firmin, as well as other parish priests, stay involved in the school community as they frequently visit and participate in classroom lessons and activities throughout the school year.
For more information, visit the St. James Church website.
8412 Whitefield Ave
Savannah, GA 31406
Phone: (912) 355-1523
Fax: (912) 353-7226